The next morning we had our only exclusively Japanese breakfast - an array of items including miso paste warmed on a leaf right at the table. We were the only westerners in the Japanese breakfast room of the hotel. Then we went out to a farmer's market in town, which didn't really have much produce - but had an enormous array of pickles.
We also stopped in a "print club" - a place where Japanese girls go to have their pictures taken digitally and then printed out on stickers. We indulged ourselves for a few hundred yen.
We got back on the bullet train, after buying box lunches at the station. An amazing variety of high-quality food is available at the stations, at fairly reasonable prices. A cart comes through the aisles of the train, too, with food and drinks.
Arriving in Kyoto, we had a snack at a keitan-sushi: a sushi bar where the sushi runs along the counter on a conveyor belt. You help yourself, and they compute your bill by counting the number of plates. This was actually the worst sushi we had in Japan. (But it wasn't the mechanized nature of it - in Osaka we had great sushi at a keitan-sushi.)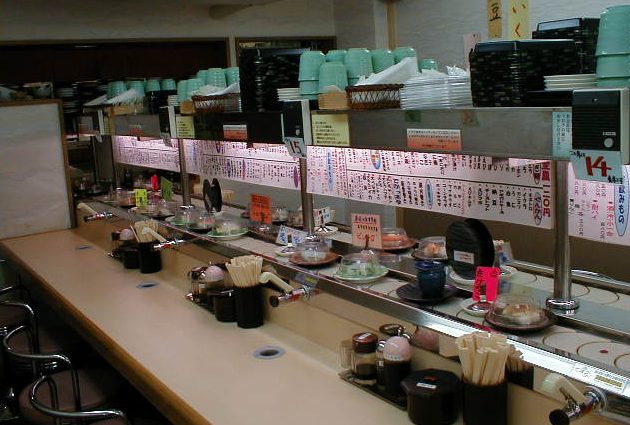 Afterwards we went for a walking tour into the city. The Kamo river cuts through the center of town, with restaurants and geisha teahouses built out on stilts over the embankment.
Across the river is Gion, known to all tourists as where Memoirs of a Geisha takes place. There are two square blocks that are preserved and quaint. The restaurant where we ate dinner is at the spot where the geisha apprentice Sayuri tripped.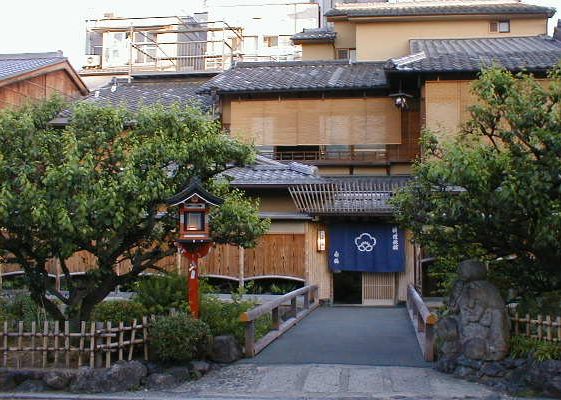 Across the street there's now a hip micro-brewery.
© 2001 Joel Abrams. All rights to images reserved.