Abrams Family Tea List
Black Tea
Green Tea
Without Caffeine



Earl Grey (x2)
Lady Grey
Lemon Lift
Prince Vladimir
Raspberry
Russian Caravan

Tea Bags


Darjeeling
Earl Green
Green Tea with Mint
Kiwi Pear
Orange Spice

Herbal


Juniper Spice
Lemon Berry Zinger
Peach Passion
Raspy Rose
Raspberry Zinger
Red Zinger
Senna
Sleepy Time
Strawberry Kiwi
Wild Cherry Blackberry
Wild Raspberry

Loose

Assam
Chai Indian Spice
Darjeeling
Earl Grey
Easter Tea
Harvest Blend
Hint of Citrus
Hyatt Blend
Keemun
Oolong
Regency Blend
Rose Lychee Congou
Vanilla Jasmine
Loose


Gunpowder Green
Mango
Maté Latte
Moroccan Mint

Decaf Black


Earl Grey
English Breakfast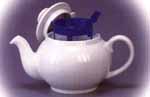 This is our teapot, which we purchased in Seattle on our honeymoon (but you'll have to imagine it in royal blue, until I get a program to manipulate this picture). It's a Chatsford pot, which is also available from Upton Tea Importers.

Tea Links:

A great source for high-quality tea from around the world (in addition to tea accessories) is Upton Tea Importers. Another good source, which includes links to other tea sites, is the World of Tea. Our favorite place to buy and drink tea in the Boston area is Loulou's TeaLuxe, right in the heart of Harvard Square. We also like Tea Tray in the Sky, a tea room not far north of there.

You might also check out this list of Tea Resources on the web, from a tea-fancier in Denmark. The Sri Lanka Tea Board has an impressively fancy site, where you can check out the price of Ceylon tea at auction, in rupees per kilo.




Sign Our Guestbook
View the Guestbook

© 1997-9 Joel Abrams. Last Revised: January 3, 1999